Happy Holidays Canada!
We hope everyone is getting excited about a waste-less giving season, where possible. We do our best to focus on solutions over problems.  This holiday season, do our waterways a favor by shopping, gifting, and celebrating responsibly. On that theme, be sure to check out the articles below from our team featuring good news across Canada and beyond!
Highlights from Our Staff
Success in the South Pacific

by Rachel Stewart-Dziama | [email protected]
Fiji, an archipelago of over 300 islands, is a tropical paradise surrounded by bright coral reefs. Like many South Pacific Nations, Fiji has struggled to implement waste management systems. However, the tide on plastic pollution in the region is turning. The purpose of our recent trip to Fiji was to document the country's forward momentum in eliminating waste plastics in the ocean.
Garbage bins are now located in some places where the public frequents the shoreline. Garbage is seen up on elevated platforms to prevent dogs from accessing it before collection. There is also a growing awareness of the threat waste plastic presents to marine ecosystems. 
When it comes to re-imagining how waste management is accomplished, we all have a part to play. Governments, in partnership with NGOs and private impact investment, can together create systems that could not be achieved in isolation.
For example, the International Union for Conservation of Nature and Natural Resources (IUCN), is prioritizing the issue of plastic. It held a series of meetings to engage key stakeholders to discuss how policy, business, and private citizens can work collectively. Learn more about the IUCN's Plastic Waste Free Islands Project here.  
Looking at the world of business, there is the organization Matanataki. Matanataki is a Fijian word meaning "action" or "doing."  They facilitate blue and green businesses and investments aimed at addressing climate change and conservation of both terrestrial and marine ecosystems. Check out Matanataki and their partners here.  
Five years ago, when our Executive Director started working in Fiji, plastic pollution was not a priority. Today, there is growing momentum among the private, public, and hospitality sectors in working toward eradicating plastic from the ocean. The difference we saw on Fiji's beaches is striking. Where once plastic littered the shore now stretches a clean expanse of white sand.
Looking forward to 2020 stay turned for a short film from Plastic Oceans Canada on other success stories, including more from the South Pacific as well as stories from closer to home.
Rethinking Plastic in Schools & Abroad
The Plastic Oceans mandate is to change behaviours towards plastic within a generation, and we focus strongly on education through film and facilitated school and community presentations across Canada. Our 22 minute, shortened, educational version of the film,  
A Plastic Ocean
, is available for purchase as a single downloadable link, or an unlimited downloadable link to view at your leisure, and for semesters to come. The facilitated presentation also includes a screening of the film, as well as a powerpoint on what you can do to act. Facilitated events promote school/community wide accountability and opportunity for discussion with a passionate, experienced presenter.
As the Education Coordinator and an Ocean Guardian presenter myself, every school visited in the Spring and Fall of 2019 has been an inspiration. Each school has their own initiatives underway: sorting waste such as recycling, compost and landfill (some schools extend their sorting bins to include flexible plastic packaging, batteries and 
even pens and markers); installing water refill stations to encourage reusable water bottles; posting art projects featuring re-purposed plastic; organizing shoreline, neighbourhood and school ground cleanups. 
During the Q&A session of the presentations, students' comments and questions are concerned, intriguing, a statement of their own proud contributions and ideas, and an impressive urgency to act. 
There is a culture of environmentally aware youth out there and it is our job to nourish and help it grow. Behaviours towards plastic ARE changing and will continue to change. Plastic Oceans offers a number of free, open source resources to enrich the 'rethink plastic' conversation. Start by downloading our Next Steps Guide, designed to help re-thinkers at any stage make positive changes at home, in school and in communities. 
In addition, our website also offers a number of free, open source films, including many inspiring short films, handpicked by Plastic Oceans, to raise awareness. It takes a village to raise a child, and these films give voice to new perspectives and sheds light on efforts made within our global village.
You will find films like the 76 min film, Eating Up Easter, showing globalizing effects of tourism; the 12 min Message On A Bottle, recording a courageous trip on a kite-foil-board across the North Sea to promote extended recycling options in the Netherlands; or The Swimmer, a 2 min ode to a lifelong love of ocean swimming. For older highschool students and young adults, the 6 min mockumentary, Big Litter Ocean, offers comedic relief to help rethink the very serious issues that we and our oceans face.  Find these resources and more here.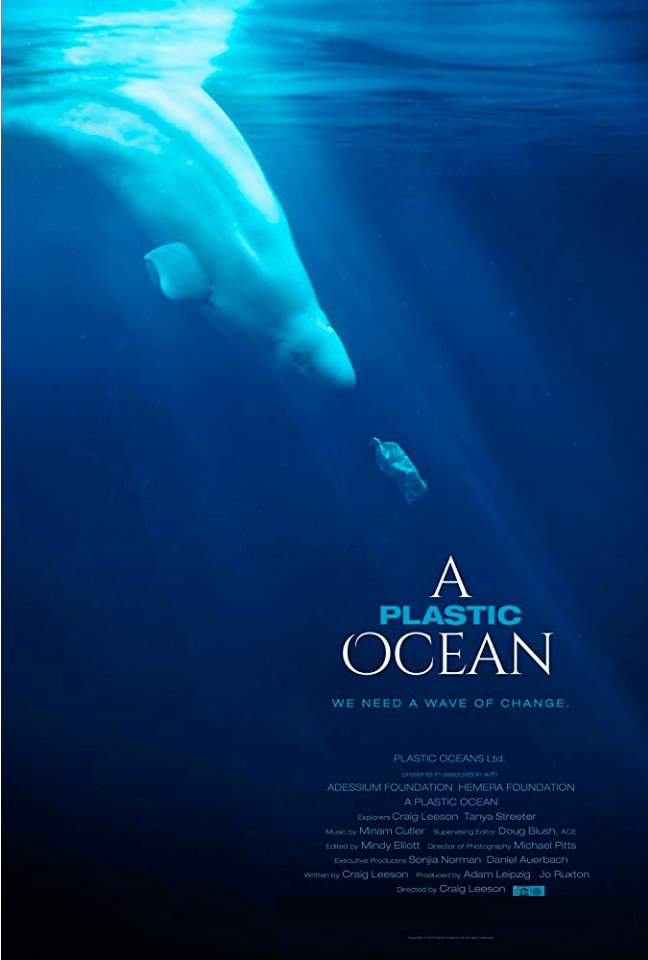 Recent Canadian Action on Plastic Pollution
Recently in the news, we've heard about the ongoing global changes concerning single-use
plastic bans. In Canada, our federal government made statements concerning the direction they will be taking to help offset the amount of plastic entering our waterways.
Currently, the Federal government will be banning plastic as early as 2021, including: plastic bags, straws, cutlery, plates and stir sticks. The Federal government is planning on working with the provinces and territories to introduce standards and targets for companies that manufacture plastic products or sell items with plastic packaging.
These new standards would ensure that manufacturers become responsible for their own plastic footprint. Additionally, they will rely heavily on proven scientific evidence when determining which single-use plastic will fall under the nationwide ban.
While the federal government is finalizing the nationwide ban, provinces, cities and towns across Canada have been taking action towards implementing their own single use plastic bans. Keep reading to learn about provincial initiatives.
British Columbia
Two years ago, the City of Victoria implemented a ban on single-use plastic bags. However, the ban was overturned by the B.C. Court of Appeals this past July, as the ban only referred toenvironmental impact, and did not sufficiently examine the impact on human health. Even with the ban being overturned, most businesses in Victoria still recognize the ban's importance, and as such, follow the regulations put in place. As a result, the City of Victoria is planning on taking this case up to the Supreme Court of Canada to reinstate the ban.
Moreover, Vancouver is also in the works to ban single-use plastics. This past April, Vancouver implemented a ban on plastic straws and will be continuing their work to ban single use items by January 2021.
Public regulations for the extension of the ban include:
If retailers want to provide paper bags, they must contain 40% recycled content
Shoppers will be charged a fee depending on which single-use plastic items they use
All mandatory fees collected will be kept by the respective businesses
Other municipalities that have enacted a ban on plastic bags in BC include: Courtenay, Cumberland, Qualicum Beach, Rossland, Salmon Arm, Sooke, Tofino and Ucluelet.
Manitoba
Manitoba's Premier, Brian Pallister, has begun consultations with the private sector on ways to
eliminate the use of plastic bags. As such, we may see Manitoba becoming the next province to implement a plastic bag ban, following Prince Edward Island, and Newfoundland and Labrador.
Within Manitoba, Winnipeg has also put forth a motion to ban single-use plastic bottles, straws and stir sticks. These plastic items will be replaced with non-plastic, compostable alternatives such as eco-friendly straws. The city plans to use small actions such as banning single-use plastics to help reach long term climate goals. Winnipeg also plans to work with festivals and event organizers to help them move away from plastics and towards plastic-free alternatives.
Furthermore, rural municipalities in Manitoba are planning to establish bans concerning plastics. As an example, the rural municipality of Alexander has approved a motion to ban all single-use plastics within the next year! This motion seeks to resolve the heavily affected waterways impacting their marine ecosystems. Hopefully this ban will reduce plastic pollution in the municipality and improve their water conditions.
Ontario
The province is currently weighing in on it's options for banning single-use plastics to improve
their recycling program. With that in mind, they have released a discussion paper on reducing
litter and waste. Some examples from the discussion paper revolved around stakeholder opinions on banning single-use plastics as an effective tool for reducing waste.
St. Catherines, ON
Cities across the province are taking steps to reduce their plastic footprint. One city in particular, St. Catharines, has had their city council unanimously pass a plastic straw ban in in municipal facilities (stir sticks and straws). Encompassing the use and sale of plastic straws in city facilities, parks, city-run events and public spaces, non-plastic compostable alternatives are mandatory. They have also banned the sale of plastic water bottles in municipal facilities.
Recently in St. Catherines, a motion was brought forward to ban single-use shopping bags. When approved, this single-use bag ban will be implemented by December 2020. To ease the transition, stakeholders have requested that the city provide the business community with direction for alternatives to single-use bags. 
Similarly, the city council in Woodstock recently endorsed a motion to ban single-use shopping bags. Overall, it is great to see Ontario is taking steps to reduce their plastic consumption!
Quebec
The government of Montreal is taking leading strides in the province of Quebec by currently
forming a bylaw to ban all single-use plastic by Spring 2020. Some businesses have already
taken action by replacing plastic cutlery and dishes with reusables. Recognizing the need to work together with their community, the city itself is committed to developing a strategy to help companies that would be affected by the bylaw. Considering the city's C40 goal to become zero waste by 2030, this ban is a step in the right direction.
New Brunswick
While there are no concrete plans in place, New Brunswick's Minister of Environment has stated that they are considering a plastic-related ban. However, they do not currently have a timeline in mind, and they have not decided which type of ban would be suitable for the province. Within the province, some cities such as Moncton, Dieppe, and the town of Riverview, are reviewing their municipal plastic bag usage. These cities and the town of Riverview have launched a survey to determine residents' opinions on bans and their usage of plastics.
Nova Scotia
In Nova Scotia, the approval for a province-wide ban was passed on October 30th 2019, with the ban being implemented in a year's time throughout the province. Similar to Prince Edward
Island, there will be exceptions surrounding bulk produce, live fish, prescription drugs and dry
cleaning.
Newfoundland and Labrador
This maritime province has proposed a single-use plastic bag ban, taking effect by mid 2020.
That being said, minimal regulations have been put into place. Currently there are no rules for
banning other plastic items, and no enforcement rules for the businesses that do not abide by the rulings.
In lieu of strong provincial action, a small town in Labrador, Happy Valley Goose Bay, has taken action to reduce their pollution. Instead of waiting for the province to step up, they've decided to put forth their own single-use plastic bag ban at the beginning of the new year.
Prince Edward Island
Prince Edward Island was the first province in Canada to put forth its own single-use plastic bag ban. The Plastic Bag Reduction Act prohibits businesses from providing plastic bags at checkout. Businesses in P.E.I. are required to hand out paper bags or high-quality reusable bags to customers. Exceptions to the ban include: bulk produce, live fish, prescription drugs and dry cleaning.
Highlights from Our Executive Director
It's a humbling position for me to be here with Plastic Oceans Canada. Years of 'down in the dirt' style work in developing countries offered many life experiences to draw from; however, moving home and being able to work alongside all the amazing proactive people across Canada is the icing on the cake!
We have recently added some interactive offers for our supporters, focusing on education and change. Be sure to get on-board and watch our social channels for more information on when and where they're offered. The more support we get, the more our communities we can impact.
We are very excited to be Canada's first registered Charity to offer Plastic Offsets. We have seen a rise in this concept around the world, with varying success. Following the momentum and public interest in Carbon Offsets, it is our ambition to set the standard on our home shores with this strategic offer.
Last month we shared with you our early adopter on the corporate level with 100 Brand water. For more info see our blog post here.
For our individual plastic offsets, we have chosen three basic tiers with accompanying rewards. We gave each a "Hero Title" because anyone who is part of the solution is a Hero in our eyes! 
Check out the tiered benefits for supporting Plastic Oceans Canada, below!
Sidekick: $49
This Hero supports our initiative to:
Curb plastic pollution
Educate communities with workshops and presentations
Clean-up ocean shores
Bring in local processing partners
This tier receives 1 free admission to a community event or workshop near you.
Rockstar: $99
This Hero encompasses the Sidekick tier, plus receives a care package of supplies to eliminate plastic pollution in their life.
The package is valued at $50 and includes:
3 reusable produce bags
1 reusable grocery bag
1 reusable cup
1 reusable cutlery set
This tier also receives:
1 free admission to a community event or workshop near you
50% off 1 full-day field trip in your area
Superhero: $169
This Hero merges the Sidekick and Rockstar tiers, plus supports larger clean-up operations and the extraction of marine litter from remote areas.
This tier receives:
1 free admission to a community event or workshop near you
Care package of supplies to eliminate plastic pollution
50% off 1 full-day field trip in your area
20% off any multi-day expeditions worldwide.
Canada's Largest Consolidated Clean Up Effort in History!
We have officially partnered with Andy Sward and his Million Bottle Pledge for 2020!
Andy has already gone above and beyond! He has run across Canada 3 times now, all while collecting bottles and cans along highways and roads. What's more, he donates the returns to local schools and organizations!
We learned of his efforts earlier this year, and while too late to partner up officially, we did our best to share his journey and shed a light on his unparalleled efforts.
Tentative dates and locations are below. One thing is for sure, and that is the fact that we will be supporting Andy across the whole country and hosting events in as many communities as possible along the way.
To ensure we have the needed support to stop in your local area, please offset your Plastic Footprint here. 
All contributions stay in the geographic location where support is generated!
Words From Andy:
"Every time I run across our country I see first hand the overwhelming impact of our single-use lifestyle. This lifestyle, which has become the North American norm, is taking an obvious toll if you pause for a minute and look.
More conscious decisions regarding what you purchase, and reducing single-use items on a personal, family, and small business scale all add up. Together, these choices have a huge impact on preserving our environment.
I feel confident that a partnership with Plastic Oceans Canada will help to get this message out to more people from coast to coast to coast.  The team at Plastic Oceans Canada and I, hope you'll follow next year's journey and we appreciate your support along the way."
If you'd like to work with us along the way, reach out and see how to partner with us on events. You can also email us at [email protected].
For those that aren't aware, we are offering a 5-day immersive expedition on our home shores of Tofino, in July, 2020. For me, this is an extremely special opportunity for those who join us.
My relationship with the ocean started right there on those shores. It's where I learned to surf. Back on those shores again, we will have a lesson from a surfing school I worked with years later. It is where I had my first captain's job, working on the same route we will take on our naturalist tour.
We will also have the opportunity to embark on a guided tour through Pacific Rim National Park,  learning from a local interpreter. Lastly, it is in the town I am lucky enough to call home when not on the road for work.
The Pacific Rim area shaped my life and built the foundation of my career in every way. Returning home and setting up camp again is surreal. Not a day goes by that I am not affected by the natural beauty of our home shores. Join us for the adventure of a lifetime.